Rose chafer survey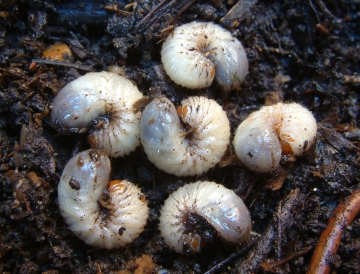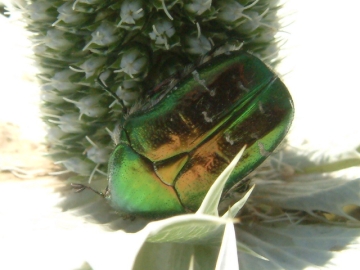 Currently rose chafers
Cetonia aurata
seem to be very abundant only in a certain area of Colchester, where their larvae can often be found in great numbers is compost heaps in gardens and allotment sites.
The imagos on warm sunny days feed on flowers, for example, rhubarb, pyracantha, globe artichoke, cardoon, and eryngium, but I've seen them very rarely on roses. They have their preferences, Compositae and Umbelliferae flowers seem particularly attractive to them. The photo shown is of an Eryngium sp..
Therefore it would be interesting to know a bit more about its present range not only in Colchester but in the county as well, or the country for that matter. We need records of both their larvae and of their imagos, please.
First uploaded on 30 March 2007, by Maria Fremlin.
Rose chafers Cetonia aurata in Colchester, Essex]