Mary, Any idea what these may be - an Ascomycetes perhaps? They were found by the assistant warden Tim Lawrence on chestnut/oak wood chips at Blue House Farm yesterday. I'm sure you will tell me that they could be one of around two dozen species! Perhaps we need to get Martin on the case. Glad to hear he is better by the way. Tim also found some interesting cup fungi, Peziza, also on wood chips. Are you any good on these as I find them very difficult even with the use of the keys in Field Mycology? He is going to collect some for me.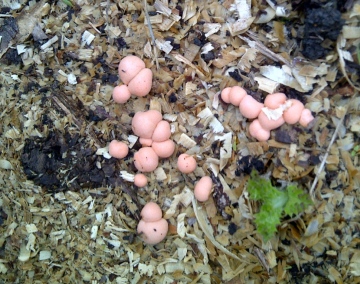 Thanks also for your comments on Elder and such like. I hope we haven't put Peter off his Elderflower Champagne! As for my garden, the early potatoes are going well apart from a little yellowing in places, which may be a sign of water-logging. If we were now to get some warm and humid weather they will probably get the blight! Had a good crop last year, though, as they lasted me for over three months. As for the young Purple Sprouting - I have now abandoned them to the slugs and will have to buy some more. I refuse to use the blue pellets and they have overwhelmed my beer traps. Perhaps I should try Elderflower Champagne in them instead........... With a philosophy of "there is no such thing as a weed, only a misunderstood wild flower" I'll always be a hopeless gardener though!
PS : I have identified the culprit! It is the Common Garden Slug Arion distinctus. Or it could be its close relative Arion hortensis. They need an operation in order to distinguish them and although I'm tempted I'm not really into that. Perhaps I ought to have a Plan B; hollowed out orange halves scattered among the Purple Sprouting plants, any slugs attracted then being deposited in a neighbour's garden!