Mary - having accompanied you on many a foray I have developed a healthy respect for your knowledge of 'little brown jobs' but this one, I admit, was going a bit far! Trouble is, I am a mycological coward and am apt to view certain groups as beyond my ken rather than as a challenge. Anyway, the following is a close up of the same fungi taken two days later, the pink blobs having matured to a less showy grey-brown. Each fruit body is up to 7mm across and as you can see are often fused together. They have not only changed colour but have gradually hardened to the touch and are now rubbery rather than soft with an olive grey spore mass. A Hypoxylon possibly? Or even a Myxomycetes? Anyway, I have now dried some specimens and will bring them along to the first of the Club's autumn forays. It is bound to be bone dry by then and we will need something to look at!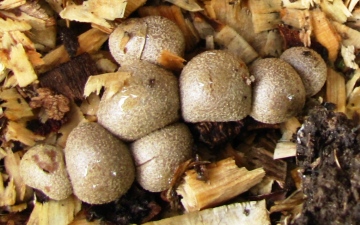 It is with a certain degree of trepidation that I offer another picture for you to look at - a slime mould possibly. It was growing from the root plate of a long dead and toppled Sweet Chestnut stool at Stoneymore Wood, Mill Green this week. It was quite large - around 4-5 cm across - and shaped like a shallow bowl. Impossible to collect, of course, without a proper container as it was slimy and fragile.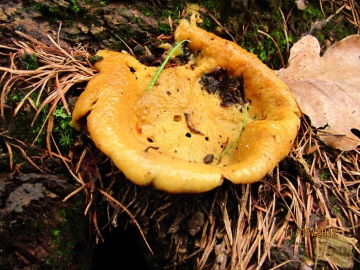 Finally, to one I was brave enough to tackle. It was growing on the same wood chip/sawdust mix as the pink blobs and played out in Brian Spooner's updated key on CABI as Peziza varia, which appears to be common on this kind of substrate, the map showing lots of records from the London/Essex area. Have kept a specimen of this as well, which I hope will be one of the first fungi to deposited at our new HQ as soon as the collections are up and running.