Spring is still skulking behind a screen of cold and wet, showers or longer outbreaks of rain occurring on nine of the thirteen days while temperatures at night seldom struggled above 4`C. Nothing unusual in that - the past fifty years of memory are littered with such seasons - but you feel the loss keenly as you grow older and have fewer left to enjoy!!! Many of our summer migrants are finding it hard to get back home and lots have doubtless died while struggling northwards against bad weather and hostile winds both here and in southern Europe. As Peter discovered, Chris, one of the five Cuckoos radio tagged in Norfolk last spring by the BTO, has finally made it back to the UK, making landfall near Epping before moving on to Thetford Forest, where he was ringed. Another, Lyster, has also got home but two have died en route, after wintering successfully in the Congo, and a third, Kasper, is still missing. Another safe arrival was a rufous-phase female at Blue House (all birds this colour in spring are females - probably a genetic variation), almost certainly the same bird that was present here last spring. Had to wait until May 4th to hear my first Cuckoos though - a male and two females at Heybridge Gravel Pit - this probably being the first time I have failed to hear one in April in the sixty years since I heard my first as a five year old! They appear to be absent from the Ingatestone/Highwood area for the second year in the last three. This is hardly surprising as in the past few decades we have ploughed up 98% of our former wild flower meadows and soaked the countryside in insecticides that have decimated not only the harmful but the harmless and beneficial insects as well, while it is now possible to walk across hundreds of acres of cereal fields and not find a single weed. With the flowers and insects largely gone the birds were bound to follow - and they have. It's not rocket science. All to feed the world apparently. A shame, then, that the Americans waste enough food each year to feed upwards of two billion people while the stuff we throw away would keep the populations of several moderate sized African countries fit and healthy. I am becoming old and grouchy. It's what comes from watching the spring surge diminish yearly in front of your eyes. If you want to read an account of what spring used to be like I recommend an essay entitiled 'Summer' by the Victorian naturalist Richard Jeffries in his book 'The Story of my Heart'.
Enough of grumbling. At least three male Nightingales were thumping out their songs at The Backwarden, Danbury on May 2nd and other delights that week included a spectacular aerobatic display by three Hobbies at Handley Barns Fishery, Ingatestone on 1st and a fine drake Garganey at Chigborough Lakes EWT Reserve, Maldon on 4th. Another find there was large numbers of St George's Mushrooms Calocybe gambosa; a little late appearing perhaps but none the less tasty for that. They make a wonderful omelette, especially with chives, but I have heard that they taste even better with Hedge Garlic.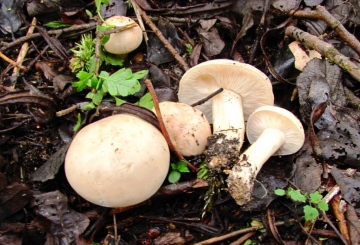 It is always a pleasure to see young life appearing at this time of year, albeit if it was the broods of three and six Canada and eight Egyptian Goose goslings present at Handley Barns on 6th. They have an appealing innocence when first hatched, even if they all too soon grow into raucously honking adults! Alas, young Coot lack the 'cute factor' even at this age, and the adults are appalling, but at least the three young that appeared at Blue House (the first of the season) on 8th bore testimony to the success of their parents strategy of frantic nest enhancement during the recent floods. More to my taste were the brood of nine Mallard ducklings there on 10th, only the second such seen this year, the high water levels having seemingly inhibited the females from nesting earlier.
Damp spring weather is more beneficial to annual plants that the dry ones of late but they need a bit of warmth to go with it and the lack, so far, has inhibited them. The flora that thrives on the dry tops of the counter walls at Blue House - and which is different from anywhere else on the farm - is usually at its peak in May but there is little to be seen this season apart from some late flowering Early Whitlow Grass, masses of Sticky Mouse-ear and a few patches of its scarcer cousins, Sea and Little Mouse-ears. A large patch of White Comfrey on a roadside verge was a new record for my home parish on 11th but a visit to nearby Fryerning Churchyard coincided with the arrival of the gardening contractors and I had to watch as the buds of buttercups, dog daisies, vetches, clovers, trefoils, medicks, cranesbills and much else besides - all about to burst forth into glorious technicolor - were shredded asunder into a billiard table-like dreariness. Sigh! During my cycling days I used to love visiting parish churches. Nearly all were open to the public in those days and each one seemed to have a different feel to it. Nearly all the churchyards were blighted though by the curse of the contractor's mower. At High Rodingbury one year they mowed around 200 Bee Orchids! Sometimes, in exasperation, I pinned a little ditty to the notice board in the porch, to wit,
All Things Bright and Beautiful,
All Creatures Great and Small,
All Things Wise and Wonderful,
The Sexton Mowed Them All!
I always added my name and address but no-one ever got back to me.
Finally, to a Moth Night at Linders Field, Buckhurst Hill on the evening of 11th, organised by Epping Country Care, at which I assisted along with fellow club members Anthony Harbott and Martin McCleery. It was a cold night - a very cold night - and we only caught four species - Green Carpet, Angleshades, Brindled Pug and White-shouldered House Moth - but the fifteen or so people that turned up seemed to thoroughly enjoy themselves, most remaining until the event closed around midnight, and their enjoyment made for a very rewarding evening all round. On returning to Ingatestone the next day there were also four species in my garden trap - a Brimstone, Shuttle-shaped Dart, Muslin and the Spectacle illustrated below; unbelievably, the best showing since the warm weather at the end of March but a sign that events may at last be on the up.