On Sunday last, my grandson showed me a bees nest he had found in the metal liner of an underpass at Highwoods Colchester. It had been excavated through a bolt hole in the metal casing of the structure.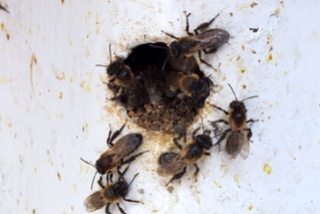 He thought he had found a wild honey bees nest and wanted an identification. To all intents the bees did resemble honey bees but were a little smaller.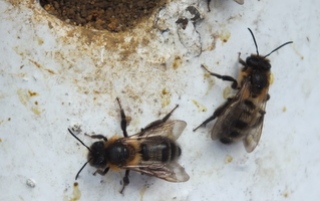 The nest was obviously occupied by a number of insects and there was a constant stream of bees with laden with pollen entering the nest. I believe they were
Adrena caratonica
which researches suggest gather to nest in this way, in a group but with individual cells.
Added to this a small bee was seen to enter the nest which I believe was
Nomada marshamella
a parasite of A.caratonica, pictured below.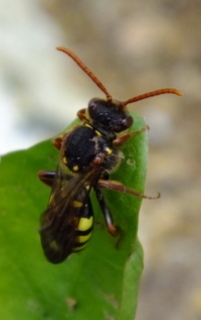 Confirmation of the identy of these bees would be appreciated if possible please.