Buzzards : A few weeks ago DEFRA announced that they were introducing a policy of capturing Buzzards and destroying their nests in order to help Pheasant shoots. They did not bother to inform conservation groups such as the RSPB and Wildlife Trusts of this little ploy while Natural England, which in the past would have had something to say on the matter, has been so successfully neutered that it's role is now purely to implement Government policies on the environment rather than to question them! Fortunately, the RSPB and other independent conservation organisations are under no such constraint and the former led the furore that has just resulted in a shame faced climb down by the minister concerned, Richard Benyon, the proud owner of a 20,000 acre walled estate (and pheasant shoot). The campaign against birds of prey has been mounting in the shooting press since the present Government took over and so too the illegal persecution of raptors countrywide. Earlier this year the RSPB announced that only one pair of Hen Harriers are attempting to nest in England this summer even though it is considered that there is habitat available for a potential 300 pairs. They have received numerous reports of birds being shot both at roost and on the nest but Hen Harriers breed in such remote areas that it is very difficult to establish the necessary evidence. In Scotland they have introduced a law that makes landowners responsible for the illegal activities of their gamekeepers but there is, of course, little hope of introducing such a law in England even though an online petition requesting such a change currently has 10,000 signatures. Gamekeepers are under a great deal of pressure to produce huge bags of game for super rich clients from the City and elsewhere who want to add grouse shooting to their CV but the hatred some of them have for their fellow predators borders on the visceral. It is a great shame as I know of a number of well run shooting estates in Essex where they tolerate birds of prey and provide a marvelous habitat for other wildlife. Unfortunately, if the Minister is suggesting the legal destruction of Buzzard nests then it is certain that it is already taking place illegally. A shotgun blast through a Buzzard's nest will destroy that pair's breeding attempt for that summer and, unlike the shooting of adults, does not run the risk of being seen. The more entrenched views of some in the shooting fraternity (especially those who are convinced that they were put on this earth to make the laws, not obey them) means that they will not be happy until we have returned to the Victorian era when most raptors had been wiped out in many parts of the country, including Essex.
The weather remained warm during the first part of the week but turned increasingly more unsettled as it progressed. Undue tidy mindedness reared its head again this week, Rail Track being the culprits on this occasion. North Fambridge Station was enlarged this winter to accommodate longer trains and the bare banks alongside the new platform were quickly colonised by a wide range of annual weeds (or misunderstood wild flowers as I prefer to call them). Alas, on my arrival there one day this week I found men in orange suits busy with strimmers decapitating them. Not much in itself you might think but two pairs of Turtle Dove nest on the railway embankment close to the station and this is a species that is almost totally dependent on weed seeds with which to feed its young. They have declined by 90% in this country in recent years and numbers are still tumbling. It does not help that many are still shot illegally on migration in southern Europe but the chief cause of their decline is undoubtedly a countryside scoured clean of weeds. This was demonstrated on 2nd when I joined a guided walk between Blue House and South Woodham led by Tim, the assistant warden. One section of the path led diagonally across a twenty acre wheat field and we failed to find a single weed, even along the margins. There were still a few Skylarks singing above the corn– they find nest sites in the tractor tramlines – but there were, of course, no Turtle Doves. No Cuckoos. No Linnets. No Yellowhammers. No Grey Partridges. Just a few Blackbirds, Chaffinches and Whitethroats singing from the still plentiful hedgerows, and also wonderful views across the River Crouch from the Woodham ridge. To some that is enough. They will readily man the barricades to defend a view from developers but worry little about the diversity of life, or lack of it, contained within. Still, it was a wonderful walk. We saw Buzzards – a resident pair escorting an intruder off their territory – and even heard a Willow Warbler, a scarce breeding bird in Essex nowadays, which had taken up territory in a small area of scrub surrounding a pond, a habitat recently created by one of the landowners en route, a demonstration that Small can still be Beautiful – and make a difference - while lots of small differences can do wonders.
Finally, made an enjoyable visit to Stow Maries Aerodrome on 31st. Russell Savoury, the joint owner, has created an excellent wildlife site there, habitats including a wild flower meadow, new woodland, flower rich grassland on the edge of the airstrip, and three small ponds. He has lots of weeds and as a result two pairs of Turtle Dove, although even here numbers are down from eight pairs when he first acquired the site a few years ago. There is also a small but ancient wood - Hawes Wood - and I suspect that this was the source of the three species of Longhorn Beetle found nectaring on flowers in his meadow - the familiar Wasp Beetle, plus two others, one of which I believe to be the Black-striped Longhorn Stenurella melanura (middle) and the other the Variable Longhorn Stenocorus meridianus, both of which are inhabitants of ancient woodland.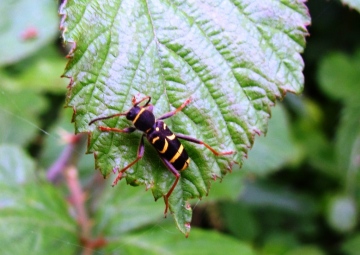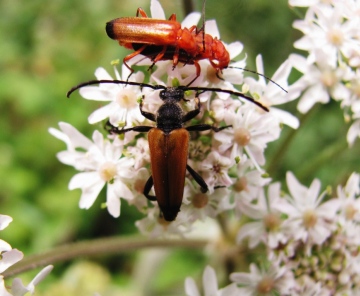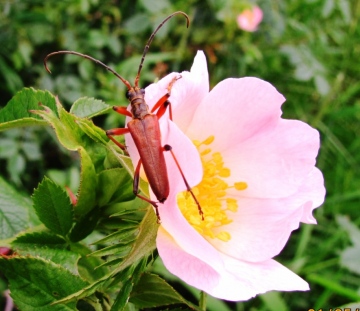 This beautiful Cardinal Beetle Pyrochroa serraticornis(or Bloodsucker as we knew and feared them as children)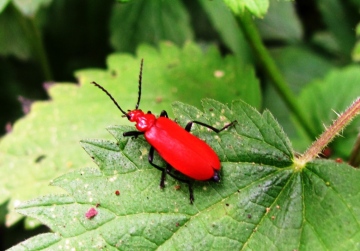 and the Flower Beetle with muscular legs Oedemera nobilis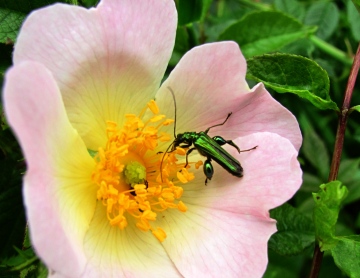 were also among the insects on view during an enjoyable ramble round the aerodrome photographing them as best I could despite the near gale force wind.