Ingatestone & Fryerning Fungi No. 1 Spruce Brittlegill Russual queletii.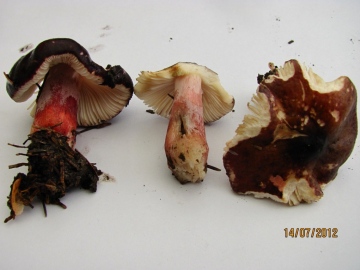 Location : Ingatestone Garden Centre. TQ637982. Growing under Picea abies Norway Spruce in a redundant Christmas Tree Plantation. July 2012
Description : Cap - 2-4(6)cm. Dark purple-maroon; greasy and shiny when wet, rapidly drying to matt brownish-purple. Surface uneven, almost lumpy with age, and looks porous (ie : covered with minute pores) under a X10 lens. Margin smooth when young, slightly sulcate when older. Cuticle peels to half way. Gills - white or very pale cream, depending on age; adnate, not crowded, edge smooth. Stipe - 4-5cm, broadening below (occasionally clavate) and rounded at base. Slightly fibrillose. Flushed deep purple-red throughout but covered in a whitish pruinescence when fresh, this eventually retreating upwards. Slightly paler at base. Firm when young. Flesh - white, but purple-red immediately below cap cuticle or where damaged. Taste- slowly turning very acrid. Smell - fruity - or so I'm told! Spore Print - pale cream (B-C on Geoffrey Kibby's chart). Spores - 7-8.5 x 6-7.5um. Covered in large isolated warts (X800OEL). No further microscopic analysis possible as I lack the chemicals to do so.
Similar species : Russula fuscorubroides. Very rare. Grows under both Pinus and Picea. Gills are cream to deep cream and spore print deep cream to pale ochre (D-F on Geoffrey's chart). Critical feature is dermocystidia in cap but was unable to examine these. Russula sardonia. Grows under Pinus. Gills pale cream and spore print deep cream. Stipe paler. A regular at Fryerning Churchyard.
Status : There's the rub! There appear to be no records for Essex on the Field Mycology database.
Collection No. : Ingatestone & Fryerning Fungi 1. Ingatestone Garden Centre. TQ637982. July 14th 2012.