Stow Maries 1st World War Aerodrome is up for sale for a cool £2,000,000! The owner is winding up his various businesses and moving abroad. It is a remarkable relic of that time as all the buildings - around 20-25 of them including a large number of wooden huts - have survived a hundred years of agricultural change, partly because they were useful as storage huts. Many are a bit worse for wear but are currently being restored by a dedicated band of volunteers, up to sixteen strong some days. It is now a registered historical site and it is hoped that whoever takes it on will have the means to develop its potential as a public attraction.
Several buildings have already been restored, one of which has been turned into a museum. The aerodrome was constructed in 1916 as one of a series of airfields designed to protect London from attacks by Zeppelins and Gotha long range bombers. The first commanding officer was one Lieutenant Claude Ridley, who had already seen service in France, where he had won the DSO and MC, and had also been badly wounded. He was all of 19 years old when he took up the command! They engaged Zeppelins several times but the only recorded success fell to a pilot from the nearby Goldhanger station, who downed Zeppelin L48 at Theburton in Suffolk on 17th June 1917. It did not stop the young pilots from dying though and there is a memorial to them on the green in front of the museum. Most did not succumb to enemy action but to the fragility of their aircraft, both fuselage and engines. A young Australian is recorded as saying - as he lay dying in the remains of his aircraft - "sorry chaps, but you will just have to carry on without me". They don't make them like that anymore - or do they?
The aerodrome occupies a hilltop overlooking the River Crouch - a little bit of Old Essex with its scattered farms, thickly hedged byways and footpaths, and pockets of ancient woodland, including Hawes Wood, situated on the southern edge of the site. Russell Savory, who runs the place, is a corporate member of the Field Club and is transforming the site for wildlife. Among other things he has planted a wild flower meadow, a small woodland, and dug three ponds. I think he is hoping that Club members will visit the site to do some recording work. It is well worth a visit as it is very atmospheric and there is no noise from busy roads to mar the tranquility. We did a limited amount of moth trapping last year and caught several scarce Essex species including Kent Black Arches, Four-dotted Footman and Dotted Chestnut. I get there as much as I can as it is a great place to potter and to sit and contemplate one's navel. It has been a poor year for insects - wasps and hoverflies appear to be at a particularly low ebb - but butterflies have picked up with the recent rise in temperature and occasional appearance of the sun, and on my most recent visit managed to photograph Red Admiral, Comma and White-letter Hairstreak.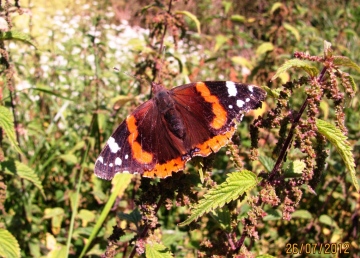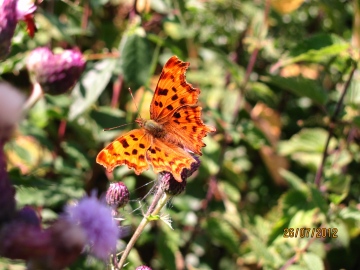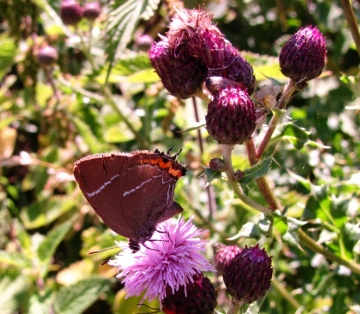 Also this fine male Black-tailed Skimmer. They normally charge £4 for a visit but the money goes towards restoring the buildings.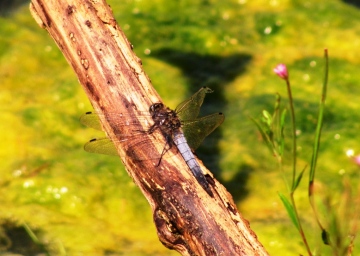 Another favourite haunt of mine - of 47 years standing this one - is Bradwell St Peter's. The beaches around Sales Point have become heavily eroded and the sand and shell piled ever nearer the seawall by winter storms. This has temporarily created a raised, compacted, shelf of sand abutting the wall, where a multitude of plants have become established. Recent colonists have included Sea Spurge, Sea Holly and Rock Samphire, the last two of which are not mentioned as occurring at this site in The Wild Flowers of North East Essex by Terri Tarpey and Jerry Heath. The seeds may have come from Colne Point courtesy of estuarine currents but I fear that their sojourn here may not be a long one. However, it is but a short hop - as currents go - to similar, much wider beaches adjacent to the nearby defunct Power Station.