Peter - a very fine specimen indeed but I bet I can find a fatter one! The single Purple Sprouting that survived the slugs and snails has now been completely shredded by Small White caterpillars, which are now reduced to eating the leaf stalks. I fear the smaller ones will starve unless they rapidly develop a taste for something new - my parsnips probably.
Like you, I have seen very few ladybirds this summer, although there were loads around in March. Aphids are the one pest that has not been a problem in my garden this year so perhaps they are having a bad summer too! Grasshoppers are also very sparse - a long walk round Mill Green today produced very few. Crickets seem to be doing a little better, especially Roesel's Bush Cricket. These two shots depict the short-winged form, taken at Blue House in July, and the long-winged form, photographed at The Hyde Lake, Ingatestone this month. I have always presumed that the latter form is produced when pressure of numbers prompts a dispersal strategy but I am probably wrong on this. Alas, I can hear neither crickets or grasshoppers anymore.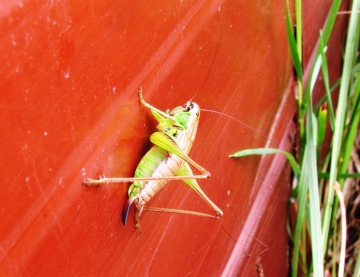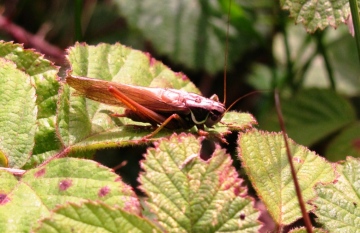 +
Your moth by the way is a Square-spot Rustic, a common species at this time of year in gardens. The following is not, at least away from the London area. It is a Jersey Tiger, a species once confined to - no, not the Channel Islands - but Devon (hence its name!) but which has spread northwards into the metropolis recently; so recently that there is no mention of the fact in my 2003 copy of the Moths of GB and Ireland. I'm not sure how far north they have got in the county - I will have to look it up on the database - but a lovely surprise when opening the trap one morning.