Found this Swan Mussel shell at The Hyde Lake recently. It was one of a large number found in piles of mud dredged from the lake some time ago. It is exactly 20cm across, which is about as big as they get. The shell has growth rings and you can apparently age the mussel by counting these. If that is correct then this one was around 55 years of age when it was unceremoniously dumped on the bank - a sad end for a mollusc of such mature years.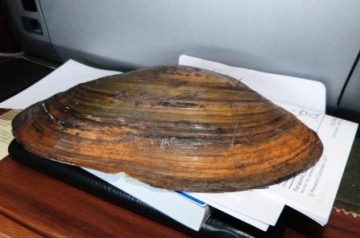 The fertilized eggs of this species apparently hatch inside the shell in winter and are nurtured until the following spring, when they are released. They trail a thread of sticky mucus from their 'tail' and with a bit of luck will eventually become attached to a passing fish. For the next few weeks they live a parasitic existence on their host but eventually drop off and begin an independent existence; like all mussels filtering algae and other micro organisms from the water.
About a year ago, at Blue House, we were visited by 83 year old George Agar, who for a couple of years in the 1930s lived at Hydemarsh Farm, which at that time was a separate property but is now part of the reserve. He told us how his father used to cut a beer barrel in half to make a boat and how he was expected to paddle this (somewhat unsteady) contraption across a nearby pond, known then as now as Cockle Pond, and dredge for 'cockles' with a bucket. It is a freshwater pond and from his description it would seem that Swan and Duck Mussels were the 'cockles' in question. As far as I know they are not considered edible nowadays but those were hardier times.
George also related a tale of how the Essex Hunt used to visit the farm on Saturdays during theFox hunting season and so he and his mate went round on the Friday evening shutting all the gates. This was not because they were budding hunt saboteurs but because the Master used to pay them at the end of the day for opening them! It was the Hunt tradition to tip assistants like George and his mate with a silver coin. The one they usually received was a silver threepenny bit, the lowest such denomination at that time, which led George to suggest that they were "mean ol' b-----s". But perhaps the Master was well aware of his (and his mate's) little ruse!
Mary - ants have been equally scarce in my garden. I have only seen one mass hatch of flying ants so far this summer, an emergence which quickly resulted in a flock of around 50 Black-headed Gulls and Starlings circling slowly overhead, picking off these hapless airborne treats one by one! Mind you, most days this summer it has been so windy that if they emerged at 2pm they would be in Upminster less than an hour later. I am impressed though that you have Blue Fleabane in the garden, I have only seen it twice - once near Holliwell Point, Dengie and on the other occasion at Roxwell, but perhaps it is still common in your neck of the woods. Anyway, one insect that has been common here of late is the Orange Swift, a male (above) and a female below.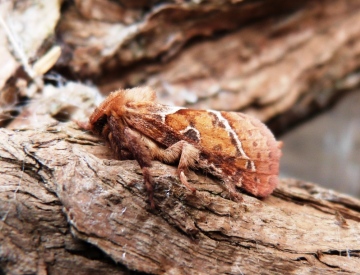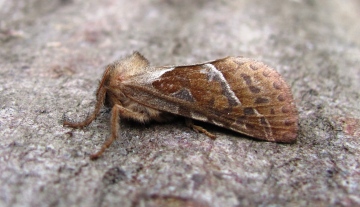 This species varies greatly in size and although the female is the far larger of the two pictured here this is not always the case and some individuals of both sexes are tiny - little bigger than your average wood Ant.