With regard to ants we have had three flights recently, the latest this afternoon, accompanied by the usual black-headed gulls, but no starlings. They are absent from our area, have not seen any for ages.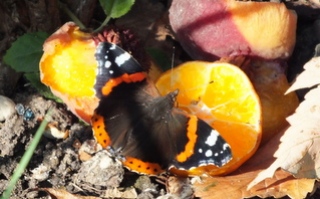 We have been graced by three Red Admirals over the last couple of days, the most seen this year. They were attracted to over ripe oranges cut in half. The local Bluebottles are being terrorised by them, much wing flashing being directed at them.
Last month I posted an observation of flies on Garden Spider prey. The above is the lastest photo I was able to take, given the right light, of the spider flies.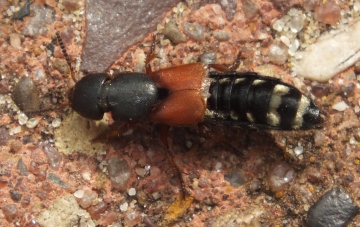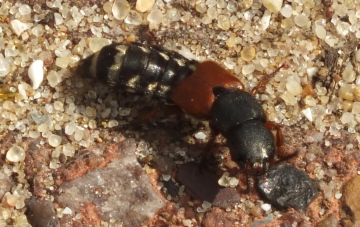 This Rove Beetle was taken on Dovercourt Promenade on 29/08/12. It was found finishing off the remains of a sand hopper. When approached it curled it's tail in the fashion of a Devils Coach Horse. Researched on the web it apppears it may Platydracus stercorius, and I would welcome advice on this one.