On the approach to the BWA Hide at Blue House Farm yesterday a Clouded Yellow butterfly was rescued from a spider's web by David Jobbins. The rescue appeared to have come too late as the spider (a Garden Spider type) had already bitten it and it flopped to one side, seemingly lifeless, when placed on the window shelf in the hide. I decided to take it home and take some photographs as I was carrying (as all naturalists do) a selection of pots in my rucksack for just such an eventuality. I left it in the sitting room overnight and returned to it mid-morning today. As I opened the pot it jumped out and began flapping across the carpet as if drunk. It proved to be
Colias crocea f. helica
, a very pale form (confined to females) which has greenish-white rather than golden yellow upper wings.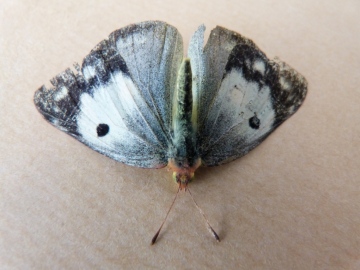 Anyway, I retrieved it and placed it back in the pot, returning mid-afternoon. By this time it had regained a little more co-ordination, appearing to be tipsy rather than blind drunk. As it had not fed for twenty-four hours and I was unsure how long a migrant species like this can survive without refueling I placed it on the Butterfly Bush in the front garden, where a Comma and Red Admiral had been feeding earlier. When last I looked it seemed to be making some attempt to feed and even managed to flutter from one bloom to the next. I suppose that a spider's bite is designed to immobilise rather than kill its prey, so that the body fluids remain exactly that when it comes to dine, but had imagined that even if an insect did manage to escape before the poison worked it would remain permanently paralysed until death intervened, not recover, as this butterfly appeared to do. Perhaps it did not get a full dose.
There have been a few records of this species in the area in recent weeks, at the end of what has been a very disappointing summer for migrant insects. For instance, I have only see a single Painted Lady all year. However, there was a marked influx of Migrant Hawkers during the first week of this month and I recorded over 150 at Blue House on 3rd. Among them was a resplendent male Southern Migrant Hawker (sometimes known as the Blue-eyed Hawker), a species that has begun to colonise southern England in recent years; a not altogether unexpected event, given the change in our climate, as it occurs across much of Europe as far north as the Channel coast. The one pictured below was photographed by Les Steward at Vange Wick. The species has been present here since at least 2010 and is probably breeding, although I'm not sure that has been proven yet. Hadleigh Downs is another good site for it but one or two have been recorded from several other localities as well.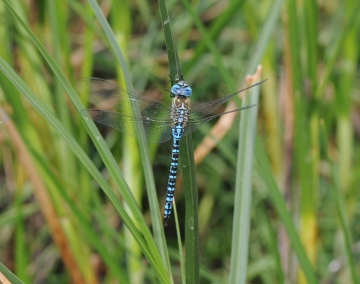 Mary : Other people have commented that there seemed to be lots of Ladybirds in March - when they first emerged from hibernation - but very few since. This may be linked to the lack of aphids in gardens this summer, including my own, where every other pestilence you could imagine has flourished but there has been narry an aphid on the Broad or Runner Beans - or even the roses. The dearth of those ants which depend on honeydew - which has also been remarked upon - may also be connected. As for Codln Moths - you can now buy pheremone traps, which lure the males towards what they hope will be a fruitful liaison but come to a sticky end instead. There is not much clover in my lawn but a sea of yellow Cat's-ear and Autumn Hawkbit on the front lawn - which really impresses the neighbours! The stripped gooseberry bushes I can't help you with. As for craneflies, October is usually the best month but they may be having a bad season like so much else. One year, at Blue House, I estimated that there were at least 20,000 along the route of my weekly butterfly transect and there must have been millions on the reserve as a whole. As each female can lay several hundred eggs the grassland must seethe with leatherjackets, which is probably why the farm supports up to 750 Rooks and 2000 Starlings throughout the winter!