November weather : when it's nice it's very very nice and when it's not its horrid! Yesterday was the former and I went for a walk (or rather a splash) to Mill Green and today the latter and I'm stuck behind a computer. My walk was not purely for pleasure, I was also carrying out work for the BTO's Winter Thrush Survey in one of my allotted 1km squares. You have to make a note on the map of every thrush or group of thrushes you see, each of which has to be entered individually on online forms together with notes on habitat and activity, including what they were eating, when observed. Bird surveys are a lot more sophisticated than they used to be! Most of the 20 or so Blackbirds I encountered were either grubbing among dead leaves beneath the hedgerows or stuffing themselves on haws in the branches; the 16 Redwings and single Fieldfare were searching for worms in some horse pasture; the 4 Mavis (the most I have seen together this year) foraging in some long term set aside grassland, and the single Song Thrush was working a garden lawn for food. They have had it easy so far this winter with all this mild wet weather. My most unexpected sighting, though, was a Red Admiral basking in a sheltered patch of sunshine on the Common.
A lot of wintering birds other than thrushes have been arriving on our shores in the past week or two. I was lucky enough to bump into a flock of 17 Waxwings at Bradwell Power Station on 13th while helping to run a bird-watching course for the Othona Community while a couple of resplendent adult male Hen Harriers have also been performing well in this area. At Blue House we were seated in one of the hides when a Meadow Pipit, hotly pursued by a Merlin, dashed in through the open window - clipping my ear in the process - then concussed itself while trying to exit through a closed one! I half expected the Merlin to come in after it but instead it flew back and forth within a few feet of us, trying to work out where it's dinner had gone! The pipit eventually recovered and we released it outside the hide. Perhaps it's not only cats that have nine lives! My little old camera was not up to photographing any of these but it manage a shot of this Snipe, also at Blue House.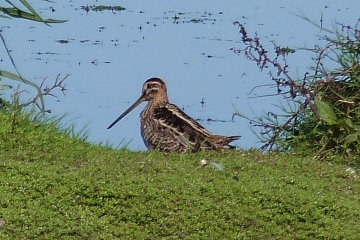 A friend was recently at Cley in Norfolk during a day of thick fog. Exhausted migrants were struggling in off the sea and flopping down on to the shingle beach. At one time he counted no less than 41 Ring Ouzels strung out along the short stretch of beach visible through the fog, while Bramblings were far commoner than Chaffinches among the flocks of finches sheltering there and at one point, while he was standing in the middle of a small patch of decaying Yellow-horned Poppy, he counted a dozen Goldcrests flitting around his feet, each trying desperately to find cover is this tiny patch of vegetation! Other birds were less lucky. The remaining strength of many gave out within a few yards of the beach and they dropped into the waves; Great Black-backed and Herring Gulls - sitting at strategic positions just offshore - quickly making a meal of them. Migration in action - impressive but at the same time deeply saddening as many thousands probably perished in the sea that day.
The largely mild November weather has not only benefited insects, as Peter noted, but also fungi. Two weeks after the season has officially ended - at least for the Field Club - I visited Fryerning Churchyard on 22nd November and found a dozen species still fruiting. The only waxcap still showing - and that in abundance - was the beautiful Scarlet Waxcap Hygrocybe coccinea, but there were also three species of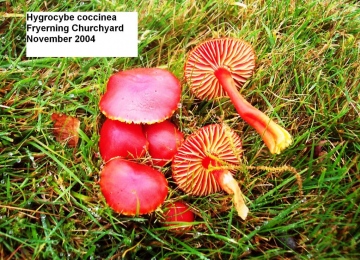 Blewit - the familiar Wood Blewit Lepista nuda; Lepista sordida, a smaller species which is lilac-brown in all its parts and whose cap often ends up funnel shaped; and last but not least the very scarce Lepista luscina (now known as L. panaeola in some circles), a grassland species that is easily identifiable by the rings of dark spots on the cap, a bit like Lactarius blennius. This last was new for the churchyard, the latest - and perhaps the last - in a long line of such newcomers this autumn. It will shortly reside in the Club's collections.