On one of those odd sunny days during the winter my wife and I walked the sea wall from Clacton Martello to Jaywick. A near gale S.E., wind was blowing across the dunes whipping up the sand leaving us feeling as though we were being sand blasted. All along the route there were piles of dried Sea Holly stems that had been snapped off by the wind and collected under the lee of the wall. Having seen Sea Holly at Walton and Harwich where a few plants can be found I was interested to know the extent of the coverage of the dunes here and again visited the area on 02/06/2013. There was plenty of new growth appearing and the coverage of the dunes was very extensive. It is not known if this is natural seeding or there has been planting to assist stabilising the sand. The below photograph is of a small area adjacent to Clacton golf course TM162134.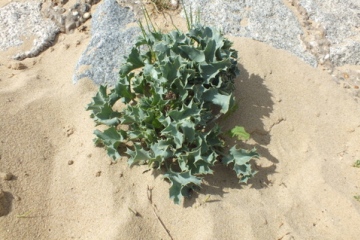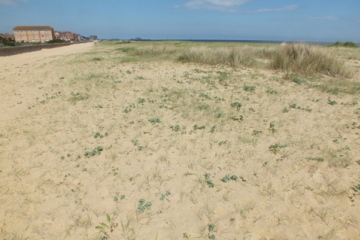 While searching the area, one clump, of what I think is Oxford Ragwort (Senecio squalidus) was discovered and photographed.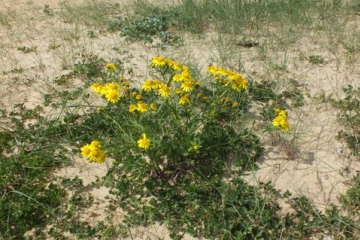 As I was taking the photo I noticed the below insect feeding on one of the flowers.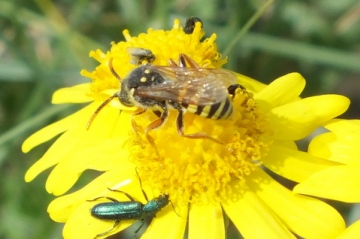 Although it looked very much like a wasp, researching the web I believe it to be a Gooden's Nomad Bee (Nomada goodeniana). The EFC species account for this bee doesn't seem have many recent records in the area, and if this is indeed what the insect is, I thought it may be of interest.