Tree Bumblebees are nesting in my garden this year. Unusually, they have chosen a site only a foot or so off the ground in a green bin used for grass clippings. The plastic has cracked on the edge of the door, creating a small hole, by which they gain access. I could have sworn
Bombus hortorum
was nesting there early in the spring but it is clearly
hypnorum
that occupies the nest now. Perhaps I need to go to the opticians or maybe the queen Tree Bumblebee usurped the original owner, although I can find no information about this having been recorded. They are truculent little things though! This morning I noticed about a dozen 'swarming' at the entrance of the nest, dancing the dance of a thousand veils! They were larger than the workers and according to Clive Hill on the Bumblebee Conservation website were probably drones from elsewhere laying in wait for virgin queens emerging from my nest. Unlike other bumblebees in the garden they are particularly susceptible to the UV light emitted by my moth trap and I found no less than eight there this morning. Fortunately, they are dopey after their night's sojourn but soon recover when I place they on strawberry flowers nearby. These, along with the blooms of Loganberry, appear to be their favourite forage plants in the garden. At least when they are sleepy it is possible to get a photo; at other times they quickly get agitated if you disturb them, even when they are only foraging.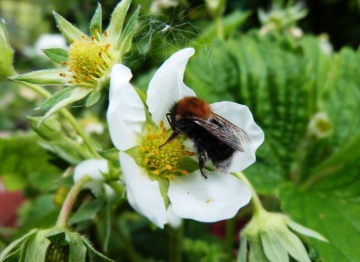 I also have another bumblebee's nest in the garden. The shed door doesn't shut properly, leaving a gap, and a queen Bombus pratorum found her way in there and decided to nest behind a draw in one of the cabinets. Apparently they often choose odd nest sites like this and have even been recorded nesting in the pocket of a coat hanging on a peg! They are much more placid than hypnorum and go about their business quite happily while the shed is occupied. There is probably also a nest of the Common Carder Bee Bombus pascuorum nearby as workers are constantly to be seen gathering pollen from Water Avens, a favourite foraging plant of theirs. Unlike last year, though, there has been little sign of either Bombus lucorum or B terrestris in the garden this summer and only a few B. lapidarius. The 5th June was warm and sunny (I treasure the memory!) and while at Blue House saw the first queen Shrill Carder Bee B. sylvarum of the year on the wing.
That day was the first occasion this season when it really felt like summer was on the way. Good numbers of both Small Heath (27) and Common Blue (15) were on the wing, the latter total being more than I saw on any one day last year. There was also a mass emergence of Odonata and a short walk along the farm's ditches produced 17 Hairy Hawkers and a few Four-spotted and Broad-bodied Chasers along with dozens of damselflies. This photo of an Azure Bluet was taken by fellow volunteer John Lilley, who has allowed me to use it here. It is perhaps not quite fully mature as the stripes on the thorax are still white, rather than blue. Since then though the cool and cloudy weather has returned and insects are at a premium once more.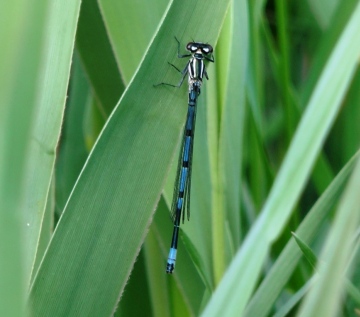 Colin Plant, writing recently with regards to the Hertfordshire Moth Group, was bemoaning the lack of moths in that county. It is no better in Essex it would seem. June is one of the peak months yet I am lucky to catch 7-10 a night compared with the 60-70 that could normally be expected. Admittedly I use a 60WUV trap, and there is a lot of competition in the area from street lamps and security lights, but at Blue House, where it is much darker, I use a 120WMV but last Tuesday I caught just a single moth, a Flame Shoulder! This fine Pale Tussock was one of the few species to turn up recently.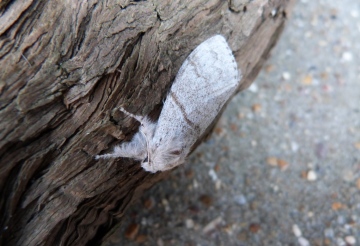 Micro moths seem to be in even shorter supply than macros and are all but non-existent. If the season is going to 'catch up' as everyone seems to be hoping it has got to get a move on. Looking out of the living room window at the wind bending the trees and the rain slanting against the panes, there is not much sign of that happening yet!