Last week my wife and I decide to take a short break over the water, in Whitstable. It was to be a rest and I didn't take the net or pots etc, just the camera. On the way down we called in to Faversham the home of several Thames Barges, another passion of mine. Unfortunately they had made their summer migration so there were only two right at the far end of the quay. To reach them I had to walk through a narrow footpath bordered by thick vegetation.
On the way through I spotted the below insect.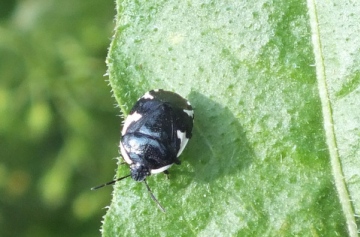 Placed on i-Spot it was identified as a Rambur's Pied Shieldbug Tritomegas sexmaculatus apparently this Shieldbug was first found in Kent in 2011 and has since been identified in four sites, and thought to colonising.
Thought this observation may be of interest as I am not aware of it's arrival in Essex, but Faversham is literally a stones throw away and if it hasn't been found yet it is a possibility soon.