Two wildfowlers were shooting on Bridgemarsh Island when we completed the monthly WeBS count between North Fambridge and Althorne on Friday. My head tells me that I have no objection to wildfowling when it is carried out responsibly; and many wildfowling clubs do behave responsibly - insisting on the use of steel rather than lead shot, implementing bag limits, and improving habitats. The last may be done to improve their shooting but it also benefits wildlife as well. I dislike the use of baited flight ponds on farms, which are leased - more often than not - to clubs whose membership consists mostly of city types who roll up in their 4x4s, sit behind blinds in their posh new Barbours and slaughter gullible young Teal that circle round and round like plastic ducks on a fairground stall (I have heard of 30-40 being shot in a single evening) and then drive back to the City, with 'duck shooting' now on their CV's! But anyone who is prepared to sit for hours on the edge of the saltings during a freezing January dawn or dusk probably deserves a few birds for the pot - or so my head tells me - and you hope they main gain something more from the experience than the killing a few birds. And yet! Why is it then that whenever I hear a gun go off I swing round and scan the sky for a falling bird or the sight of a gundog running across the marsh and when neither is evident sigh with relief. He missed! At times too I am inwardly screaming at approaching birds - who are unaware of the guns below - to gain height; my relief almost audible when they do, my heart sinking when they do not and I see a bird fall. The truth is I cannot understand why anyone would want to kill anything unless they are hungry or defending their crops. Wildlife in general and birds in particular have brought great joy to my life and I have lost count of the number of times during the past fifty years when I have crawled on my belly up an Essex seawall in order to view the wildfowl in a creek beyond as they bathe and preen, squabble and socialize, and then to creep away again unseen. You feel privileged. And, heaven's above, there is but a morsel of flesh on a Teal - barely enough to cover a slice of toast; why on earth would you want to kill something that moments before was vibrant with life. Sad. So much for my head!
That apart, we had an enjoyable walk. Grassland fungi have been thin on the ground (so to speak) this autumn but today there were large numbers of Agaricus mushrooms fruiting along the seawall. At first sight they appeared to be the common Horse Mushroom A, arvense but the ones I took home for my tea keyed out as the much scarcer Agaricus fissuratus, a species that is very closely related to it but which DNA studies have shown to be separate.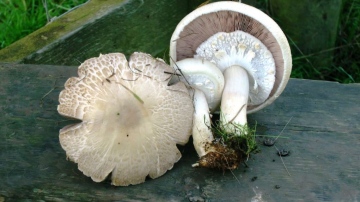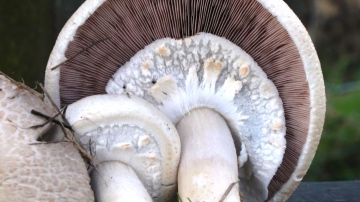 The distinctive orange-buff cap with radial cracks just beginning to appear can be clearly seen on the photographs; so too the large ring with yellow-brown cogs on the underside. Not so obvious is the bulbous base to the stem. Geoffrey Kibby, in his book on the Genus, states that it is most often found on woodland margins and in parkland but he also mentioned, at the recent Russell Wallace conference at Wat Tyler, that very few studies have been made of grazing marsh fungi, where these were growing. He would probably be fascinated to know that Wood Blewits also occur in the meadows at Blue House!