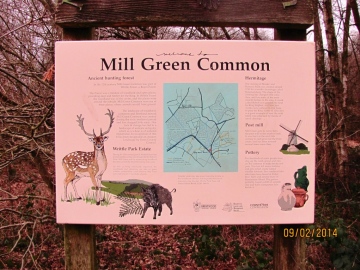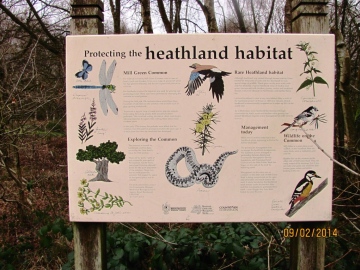 Mill Green Common, the haunt of my youth. Repository of many a happy memory spent playing truant from Ingatestone Secondary Modern. The haunt also of Nightjars and Nightingales, Tree Pipits and Woodlarks - well one at least, which I saw the first time I skipped school and helped ease my guilt considerably - plus dozens of Linnets, bouncy in both flight and character, and Yellowhammers asking for "a little bit of bread but no cheeeeese". I could hear the cheesy bit it those days but not anymore! Now, fifty years on, the Common is buried beneath secondary woodland and those species, along with so many others, have gone. It was a mixture of heather, gorse and scrubby woodland in those days but earlier in its history it had been wood pasture. There is a record from the late 18th century of 800 trees being "falled" on the Common, either pollarded or, as the word suggests, felled, as pollarding was going out of fashion by that time. I always found it hard to equate 800 of the thick trunked, top heavy pollards often seen in hedgerows nowadays with the little old common that I knew – there would have been no room to breathe!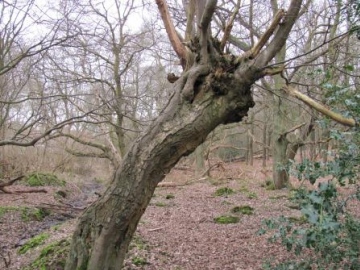 But Mark Hanson informs me that there are records from Epping of up to 1000 pollards per acre and this Hornbeam, one of the few survivors at Mill Green, indicates the much smaller, more manageable size they would have been in those days. After pollarding ceased and the trees were removed the Common reverted to heathland, a working environment where clay was dug, commoner's animals were grazed and scrub, gorse, bracken and heather were harvested, the last named so abundant that it was sent to the London markets. It was the last knockings of this way of life that I experienced as a boy.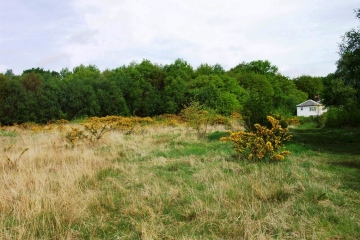 Only one small patch of the old Common remains, a couple of acres of gorse, heather and grass opposite The Cricketers, flanked on one side by the ancient track known as Maple Tree Lane and on the others by Mill Green Park and the road that currently bisects the Common. Until recently this small area too was in danger of being submerged by woodland but during the past few winters Rob Smith, the County butterfly recorder, and myself have been working – with Lord Petre's permission - to preserve at least a little of the biodiversity that once flourished here. We have cut down dozens of birch trees - many up to 20` tall – and several of the scrub oaks and created a couple of clearings among the gorse where heather is already beginning to reappear. We are currently trying to thin out the dense tussocks of Purple Moor Grass that are swamping the heather in damper corners of the site. Rob has already broken a pickaxe and a mattock while engaged in this task so is obviously working a lot harder than I am! Not that I have anything against Purple Moor Grass – it provides winter shelter for a wide variety of creatures, including Lizards, and twice in the past I have found Dormice nests buried in the tussocks. Gorse too is a valuable habitat for a large number of invertebrates and decent stands of it are surprisingly scarce in Essex. So if we manage to maintain a mosaic of mini-habitats such as these we will be well pleased. As well as heather other plants have also begun to return to the cleared areas, Green-ribbed, Oval and Pill Sedges among them, an emerging flora that also includes two species well outside their normal range – Sweet Briar and Wild Basil – the seeds perhaps brought into the area on the feet of deer or ramblers. Or possibly would-be conservationists! We look on it as our "patch" and have had plenty of interesting finds there. Rob photographed these two Essex Red Data Book micro moths, Epichnopterix plumella and Grapholita internana, last summer and Mark found this scarce woodland hoverfly, Brachypalpoides lentus, nectaring on bramble where Common and Stoneymore Wood meet. G. internana is a gorse feeder while E plumella - which is largely confined to the coast in Essex – is active in the spring sunshine. There have been lots of commoner species too of course, all of which have been great fun to find and identify.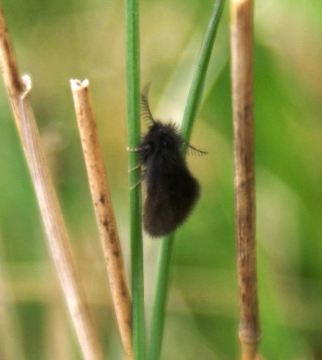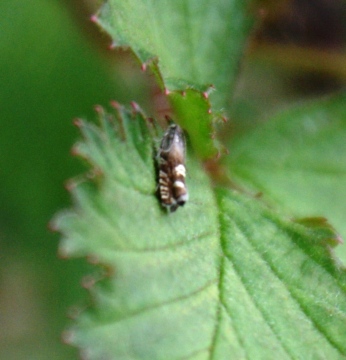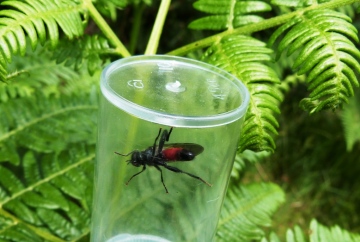 In the grassy areas away from the gorse one patch stands out from all the rest. It is 22 yards long and the coarse rank vegetation that covers it contrasts markedly with the shorter Red/Sheep's Fescue grassland surrounding it. Back in the 1980s some bright spark had the idea of creating (or possibly re-creating) a cricket pitch on the Common. They probably had visions of relaxing outside The Cricketers, glass of brandy in hand, listening to the thump of leather against willow and shouting "Bravo – well played that man" and similar cries of encouragement. It survived for a year or two until rushes began popping up in the popping crease but what really scuppered it was the discovery of a stash of hand grenades when they attempted to extend the outfield. The Common had been used as an army training ground in the First World War. Hard to believe when you see it now but I suppose that the old clay pits bear a passing resemblance to shell craters and in a winter such as this one there would have been plenty of mud. Nothing though could have prepared them for what was to come and I wonder how many of those that trained there survived the horrors of the trenches. For me it has happier memories as the setting for childhood games between cowboys and Indians; a childhood that began as General Custer but ended up very firmly on the side of Crazy Horse!