Species Account for Acrosathe annulata
previous species
|
next species
<!- species summary --> Acrosathe annulata (Fabricius, 1805)
Diptera: Larger Brachycera: Therevidae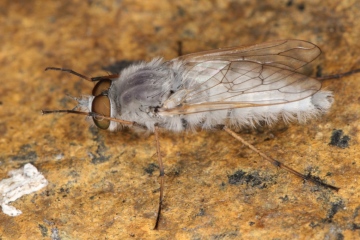 Maps produced by MapMate®. Data overlays Copyright © Essex Field Club 2020.
Reproduction for study and non-profit use permitted, all other rights reserved.
Click on dot to query records

Essex RDB:
Listed
Threat:
Essex Threatened
Additional Phenology Data
Images
Acrosathe annulata male

upload a new image
Taxonomic group: soldier flies and allies (Diptera: Larger Brachycera) - County data
Essex Red Data List comment
Restricted to dunes, recorded from Colne Point.

Species text
The stiletto fly Acrosanthe annulata may be plentiful on dunes where adults are well camouflaged as they sit on hot bare sand among marram or sometimes paths through fixed dunes. It is likely to be found on most coastal dunes on the mainland of Britain (Stubbs & Drake 2001). The only Essex records are from Colne Point where Neil Harvey found it in 1998 (D.A. Smith, county database). References
Species text last edited on Tue Mar 20th 2007 by user 3
Habitats
Broad Habitat Data (based on 2 records with habitat information)
no subhabitat data available
Structural Habitat Data (based on 1 records with structural habitat information)
Habitat Detail and Method (based on 1 records with habitat detail and method information)
Recorded management for locations with Acrosathe annulata
Recorded substrate and hydrology for locations with Acrosathe annulata
Why not join the Club, register and add a new species page
Interpretation of distribution maps