August 4th
: Somebody has recently been fly tipping large piles of woodchips on roadside verges at Ingatestone; an anti-social act, of course, but one not without its benefits for an amateur mycologist! One such pile, at the entrance to a small wood known as The Grove (TL647007), soon began to sprout fungi; a species that initially - with its rather viscid, radially striate, amber coloured cap - suggested a Coprinus, and will continue to recall one to me long after they have all been transfered to another group, which probably won't be long delayed!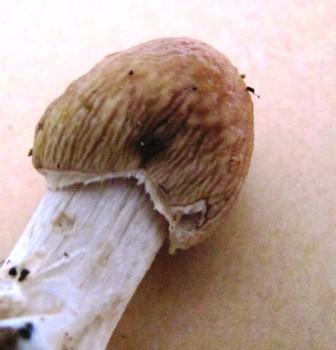 As the cap expanded it turned paler - to white, tinged with pale yellow brown - and in so doing exposed a large, loosely hanging ring high on the stem. It retained its markedly striate; or to be more exact, rugose (coarsely wrinkled) appearance though.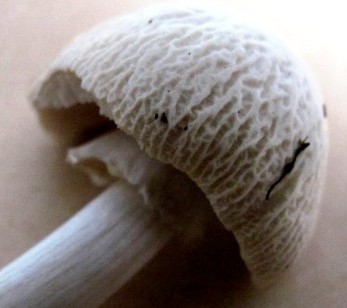 The gills were whitish when young, then pale grey, finally dark grey-brown; the few mature spores ellipsoid and 11-12um in length. Most of the mature specimens were old before their time due to the dry weather, hence the difficulty in finding mature spores. The stem was fibrillose (covered with thin fibres); white at first but browning from the base with age, and on some specimens markedly bulbous at the base, although not on the one illustrated, whose base was fused with its immediate neighbour. The pale to medium brown, thick-walled spores (among other things) identified it as an
Agrocybe
and from there it keyed out fairly straighforwardly as
Agrocybe rivulosa
in 'Funga Nordica' (2008); its habit of growing on large piles of woodchips, together with the strikingly rugose cap, leaving few other options.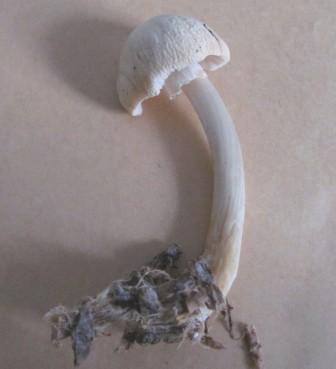 This was formerly a rare species in Britain; indeed, the BMI Checklist lists only one collection, from Derbyshire in 2004. Since then it has been turning up in increasing numbers, invariably on woodchips, and the latest on line BMI database contains around 140 records. None, however, relate to Essex, but enquiries by Tony Boniface, the County Recorder, revealed that Geoffrey Kibby had found it recently on woodchip piles behind the Epping Forest Field Centre. As it was until recently a rare find there are few illustrations in the more popular Field Guides but I eventually found a good photograph on the 'Wild About Britain' website. A full description was taken and the specimens retained. One to look out for!