Winter returneth. A cold, grey, but mostly dry week with often severe overnight frosts although the ear nipping, nose numbing north-easterlies at the beginning mercifully slackened off by the its close. Everything feels dormant; only the birds bring life and colour to a landscape. But they too are in cold weather mode, doing everything they can to conserve energy. Scan the sky and there are few birds flying apart from Wood Pigeons commuting between oilseed rape fields; even the normally acrobatic flocks of Rooks and Jackdaws, which delight in tumbling on the breeze, have curtailed their antics while the flocks of tits and other small birds working their way through the trees are strangely mute. At Blue House Farm, North Fambridge the Dunlin flocks have trebled in size and have been joined by groups of Knot, refugees from the exposed shores of the Dengie coast. All the waders are remarkably tame, their normal wariness inhibited by the cold, so reluctant are they to fly. If not exactly walking at your feet, like the Turnstones on Southend Pier, they feed happily (if feverishly) within a few yards of them. Even a week of very cold temperatures can numb muscles and slow reactions, a Dunlin paying the price of a few seconds delay at the talons of a marauding Sparrowhawk. Not all birds are suffering; 1100 Cormorants were seen sitting on sandbanks during a BTO Low Tide Count between Steeple Stone and Bradwell Power Station on 31st. They must get through a hell of a lot of sprats during the course of a week!
A bonfire was a welcome refuge from the cold at The Backwarden on 1st, its fuel a recently felled tree suffering from Acute Oak Decline. A white-capped, pink-gilled, stemless agaric growing on bramble stems keyed out as the Variable Oysterling Crepidotus variabilis; this and its relative C.cesatii (which has no English name), found on gorse stems at Mill Green Common on 29th, kept the fungi season going for another week. There were few signs of insect life though apart from a Chestnut (illustrated) which turned up in the kitchen one evening.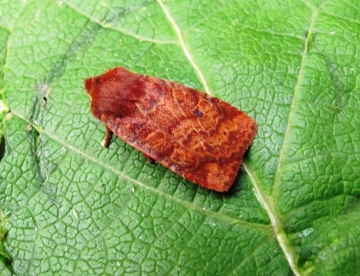 Rob Smith, County Butterfly Recorder, did find a single egg of a Purple Hairstreak on the bud of a scrub oak at Mill Green, one that was due to be removed. It has now been spared and we wait with interest to see if the egg survives the frosts and foraging tit flocks to hatch in the spring.