A thaw set in early in the week but the milder temperatures were offset by a lack of sunshine and stronger winds. My small garden pond was still frozen solid on 14th but free of ice three days later when I disturbed a couple of Frogs that had survived their two week long entombment. Around 7-8 years ago I counted nineteen dead frogs in the pond during the early spring, all of which appeared to have died from the so-called Red-leg Disease; since when they have never really re-established themselves and I only occasionally find spawn. When it does occur very few young frogs survive the tadpole stage, being gobbled up by a large population of Smooth Newts (a maximum of 22 of which were counted in 2011), and a few of these were also active this week.
A visitor to Blue House Farm EWT Reserve reported finding seventeen dead waders along the shore this week - mostly Dunlin but also a few Knot and single Grey Plover and Curlew. He suggested that they might have been shot and although this could have been the case (although not on the reserve!) I think a more likely scenario is that they died as a result of the severe weather. Even towards the close of a relatively mild winter like this one has been many birds will - for a variety of reasons - be at a low ebb and the icy conditions we experienced last week, when night-time temperatures fell as low as -12'C on a couple of occasions, could easily spell the difference between survival and death. They are unlikely to have all died together but were probably washed into the large bay (known locally as a 'horseshoe') by the prevailing tidal currents. Mass deaths like this were of fairly frequent occurrence during the harsh winters of the 1960s and 1970s. Another result of the cold weather has been an influx of Woodcock into gardens (including my own), they having been frozen out of their usual woodland haunts, while I have even heard reports of the odd Lapwing visiting residential areas, a sure indication in both instances of birds facing starvation.
On a happier note, no sooner did the temperature rise this week than Blackbirds and Chaffinches joined the dawn chorus in the garden and both Reed Bunting and Yellowhammer that in the countryside. When it comes to the latter I can still hear the "little bit of bread and no" but not the high pitched "cheese" at the end of it! The garden moth trap, set set for the first time this month, on 17th, yielded two species -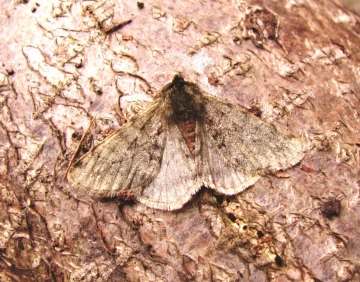 a Chestnut and a Pale Brindled Beauty (pictured) while during a work party at Poors Piece EWT Reserve on 18th one of the volunteers disturbed a queen Hornet and another found a Glow-worm larva. This may possibly be a new site for this species. Finally, after a temporary close down due to the snow, the fungi 'season'resumed when I found several specimens of the Dung Roundhead Stropharia semiglobata on a well rotted cow pat at Blue House on 16th.