Is there anybody out there? Belated New Year greetings if there is! A mild start to the new year; better for birds (especially after the terrible breeding season last summer) and better for bird-watchers, especially those of a certain age. Wet though - squelchy everywhere. My walking boots - new in 2011 - are already about to expire. On New Year's morn there were 60 Goldfinch, 25 Chaffinch, 12 Greenfinch and 25 Collared Doves on my bird-feeders (I seem to have attracted every ruddy Collared Dove in Ingatestone since I fitted trays - on which they can perch - beneath the feeders) but only a couple of Blue and Great Tits (the result of that lousy nesting season) and but a solitary House Sparrow. The last named were known as Sprogs in my bird-ringing days and "ring and fling" was the policy when dealing with them as, post breeding season, they use to foul up the nets in droves - a hundred a day was not unusual. Now they are red-listed and I'm chuffed to bits if I get a pair nesting in the garden!
Visited Southend Pier on 5th. The sprat shoals were in and there were plenty of Red-throated Divers and Great Crested Grebes feasting on them. Also several Guillemots feeding close to the pier-head. Watched three Great-Black-backed Gulls mugging one of them. They pounced on it as it resurfaced after a dive and one of them dragged it into the air by one wing. The poor old Guillie promptly regurgitated its last meal and the gull dropped him back in the river as it pounced on this offering. The Guillie dived and resurfaced thirty seconds later about fifty yards away, apparently unharmed. A lucky escape as Great Black-backs regularly kill and disembowel smaller seabirds.
At Blue House Nick's cat brought in a Slow-worm on Friday (which was released unharmed in the compost heap) and 'Butterfly Bill', one of the reserve regulars, saw a Common Lizard out and about on New Year's Day, both bearing testimony to the unseasonal mild weather.
Two species of Waxcap were still fruit on the opening day of the year at Fryerning Churchyard - Scarlet Hygrocybe coccinea and Snowy H. virginea - and a couple of Deceivers Laccaria laccata were still producing spores on my garden lawn. Among the commoner bracket fungi on view this week have been Jelly Ear Auricularia auricula and Birch Mazegill Lenzites betulinus. The latter was photographed at Thrift Wood, Bicnacre during a work party.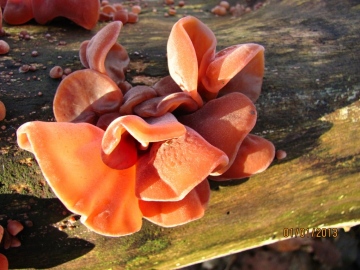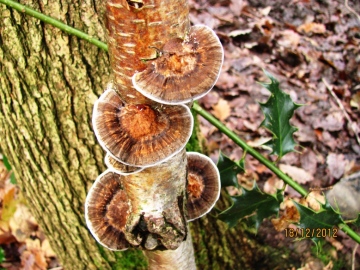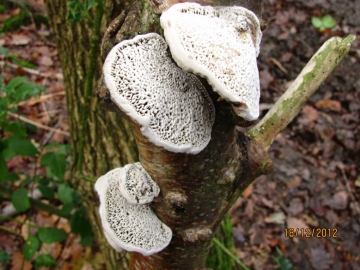 Have tried a dozen different ways over the years to make Jelly Ear edible but whatever I do I still end up with a plate full of elastic bands! If anyone knows the secret please let me know.