A little bit of snow and the media once more go into overdrive. Chaos and disarray is the image they portray, with endless shots of abandoned vehicles on motorways, cars slithering on ice, grit lorries in ditches, pedestrians tumbling on slippery pavements, overworked A & E departments (but not as overworked as on an ordinary Saturday night!) and of animals stranded in snowy wastes. They must have driven for miles to find the last named as given the accuracy of short term weather forecasts nowadays most farmers would have brought their animals on to lower ground long before the snow arrived. The BBC even went so far as to send one of their film crews to high ground on one of the motorways during a blizzard, where they obligingly remained marooned all night, a local family having the kindheartedness to put them up. Given all the hyperbole, I thought you might like to see these two photographs taken during a real winter, 1963. They depict the River Blackwater at Bradwell St Peter's and are in the collection of Kevin Bruce, a local historian from Tillingham, who has kindly given me permission to use them here.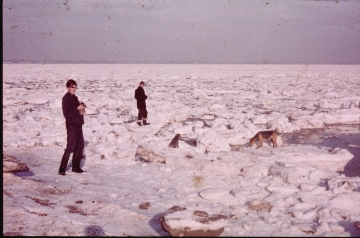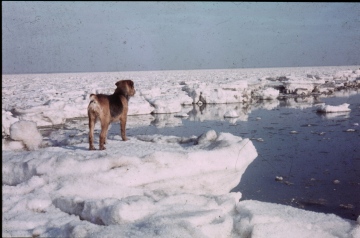 The guy in the foreground is Malcolm Chettleburgh, the one behind possibly Alan Old. Malcolm was one of the founder members of Bradwell Bird Observatory (in 1953) and rented Linnet's Cottage (in the grounds of which the Bird Hut stands)as a holiday cottage for over fifty years after the last occupant, Walter Linnet, died in 1958, only transferring the lease to another of our members in the past few months. It is thanks to him that the the Observatory has survived so long and continues to flourish. The dog, by the way, was called Squeak and the scene beyond him depicts ice flows moving along the River Blackwater. And they dare call this a hard winter! Actually, events have already moved on, the thaw has set it, a wet and windy week ahead is forecast and they are already chattering excitedly about floods!
That having been said, I am not so fond of the icy weather as I used to be. I don't bounce like I used to! Age creeps up on you. Some young guy offered me a seat on the train the other day. I looked around me in confusion, wondering who the hell he was talking to, then realised it was me! I wasn't sure whether to be pleased or outraged but I took up his offer with good grace. How did this age thing happen?
Still, when the air is still and the sun is shining it is still a pleasure to walk in the snow with friends. One such day was 17th, when we visited Holbrook Bay on the Suffolk side of the Stour to help the Wildlife Trust with a low tide wader and wildfowl count. It was -8`C when we got out of the car at Stutton but gradually warmed up thereafter and at the end of the count we sat on the fallen trunk of a Holm Oak, basking in the warm sunshine as we ate our lunch. There were lots of Great Crested Grebes, Mergansers and Goldeneye diving for smallfry close inshore, together with at least three Slavonian and one Red-necked Grebe, and waders such as Dunlin, Grey Plover, Redshank, Curlew and Black-tailed Godwit (including an Icelandic colour ringed bird) feeding almost at our feet. There was even a Lesser Spotted Woodpecker 'drumming' from the trees along the shore. A few days like that makes the winter go quicker.
Walking locally is also a pleasure, although there seem to be more birds in my garden than in the surrounding countryside nowadays, three Siskins and two Lesser Redpolls having joined the Goldfinches and Chaffinches on the feeders while Fieldfares and Mistle Thrushes have been squabbling over the ownership of a berry bearing Holly bush in a neighbour's garden all week. The following two shots were taken a few years ago, one of Fryerning Churchyard, the other of Bushy Wood, Margaretting, but both looked just as beautiful this week.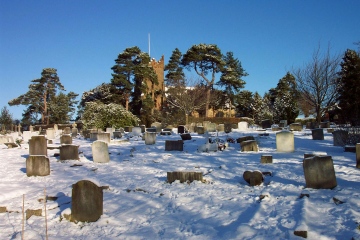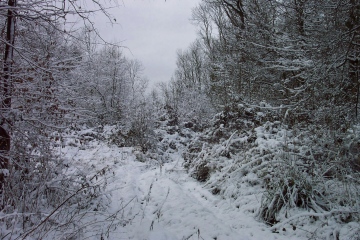 PS: I have just heard that an antique Windsor Chair, known as a Smoker's Chair, worth around £200, has been stolen from the church this week so I suppose it will now be closed to the public, except for services, like so many others. The last theft was of the Lych Gates. They turned up in a drug dealer's house in Romford (they are now bolted on), so perhaps the chair is destined for the same fate. Sad.