On 02/02/2013 it was decided to take a stroll around the Wrabness Nature Reserve. While the garden was quite pleasant in the shelter of the fences, it was a different story on the Stour estuary where there was a very cold, extremely lazy wind, going straight through you.
There was little about, four species of bird being noted, Robin, Blackbird, Dunnock and Blue Tit, then only one of each, darting from cover to cover to avoid the elements.
However this gave us time to look around the bushes as we passed.
Particularly noted were the Elders (Sambucus nigra), these were completely covered with Golden Shield or Common Orange, also known as Maritime, Lichen (Xanthoria parietina). Throughout the reserve entire bushes were completely covered with the lichen, turning them into bright golden, scaly, beacons in the bleak winter landscape. The bonus is, this lichen indicates a clean atmosphere, but the downside it requires moisture; it's had plenty of that recently.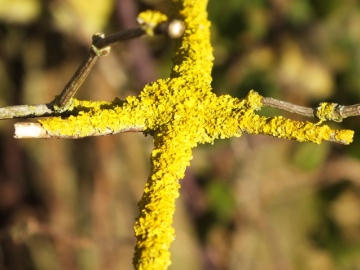 Another find was the below pictured fungus, which I believe is the Cushion Bracket (Phellinus pomaceus) growing on Blackthorn (Prunus spinosa), prunus apparently being it's preferred host.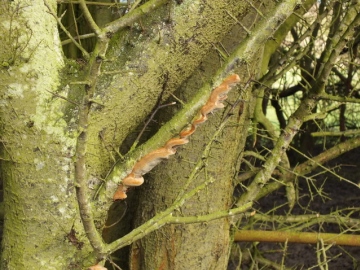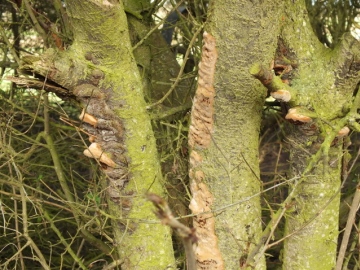 On the way home we called in at The Walls, Mistley, where again the keen wind had the birds keeping a very low profile, little out in the open. The gulls and swans were however much in evidence, waiting for visitors to feed them. The below immature Black-Headed Gull (Larus ridibundus) was pictured using the wind to soar along the shore, using only its tail to guide itself.