And now for Class 4D. Avocets. They are noisy, bumptious, anti-social, and given to throwing temper tantrums at the slightest provocation; they also delight in beating up creatures smaller than themselves. And that is just the parents. Birds much larger than themselves as well, as these two photos by John Lilley demonstrate.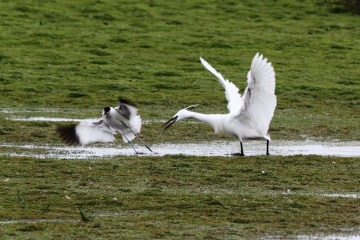 The egret is a potential threat to very young chicks but the swan is more likely to inadvertently flatten the Avocet's eggs with its big flat feet.
Avocets often nest communally, as at Blue House, and the bickering tends to be kept to a minimum until the eggs hatch, then all hell is let loose. Their method of chick rearing is to let their offspring do whatever they want and to attack anything else – ranging in size from swans to wagtails (even dragonflies and bumblebees on occasion)- that comes near them, these unfortunates also including the chicks of neighbours and any innocent Lapwing or Redshank fledgling that wanders by. The one thing they have going in their favour is that any passing crow or harrier meets with a communal response, being buffeted by up to a dozen birds, whereas Lapwings tend to lose interest once the predator has left their territory.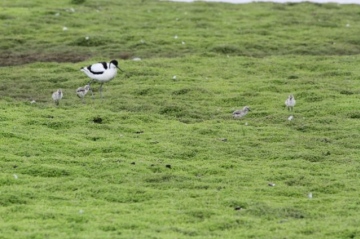 Still, the Lapwing is more my sort of bird. It is quieter, better mannered, more discreet; assertive when it comes to defending its territory and its young but the majority of its confrontations are ritualistic, seldom breaking down to serious fights. It has a range of distress calls to match the degree of threat to its young and to warn them to stay hidden, the shrillest and most fearful of these being reserved for Mustelids such as Stoats and Weasels. Alas, like the young of many species they do not always heed their parents and that can lead to their downfall when foxes are around. Fortunately, the 2km long fox-proof fence which the Blue House volunteers laboured long and hard to put in place skirting Round Marsh – the main wader breeding area on the farm – has worked well during the past two years. A fox was seen inside the fence on a couple of occasions last spring but did no damage. The one I saw was furiously licking its hindquarters and we conjectured that it had received a kick in the pants on entering the marsh and hopefully got another when exiting it. Also, the neighbouring landowner no longer runs a shoot, and therefore no longer shoots foxes, and this probably improves the survival chances of the resident pair, which eventually learn to avoid the fence. Anyway, the 30 pairs of Lapwing on the farm (including the 25-26 within the fence) have reared between 1.6 and 1.8 young per pair this spring, and as 0.8 is the success rate thought needed to maintain a population the Blue House Lapwings have done their bit to improve the fortunes of the species. The two pictured here, standing on either side of one of their parents, were among a brood of four successfully reared in front of the New Hide, which overlooks Round Marsh.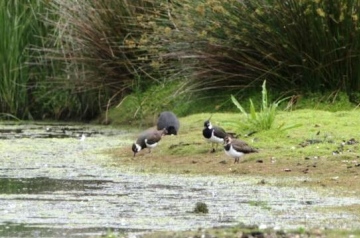 This is the second year in succession this pair have reared four chicks – which is exceptional among Lapwings – but their father is an alpha male. This year and last he was polygamous, his alpha female nesting on the broad sward on one side of the main creek and his secondary mate on the other. She reared two young almost on her own, receiving little help from him. There was no love lost between the two females either as when the latter's chicks inadvertently strayed across the creek it was the alpha female that attacked them, not her mate. Now that the breeding season is more or less at an end I can at last relax as it is far more stressful for me than for the birds! When you have spent 50 years or more watching so many farmland bird populations go down the pan it is good to be able to help reverse that in some small way as the mark of any reserve (and most Lapwings in Essex now nest on nature reserves) is not the number of breeding pairs but the number of successful pairs. Finally, a couple of shots by John of other species nesting on the farm this year.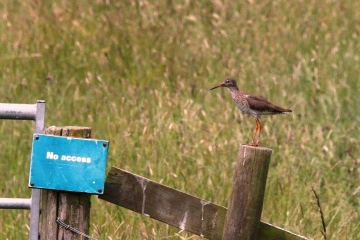 Redshank tresspassing. 15-16 pairs nested, most successfully, on the farm.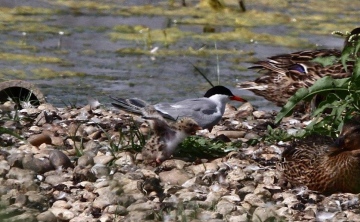 Common Tern with chick. I have seen them eat up to 10 small fish in an hour. They grow fast!