Great Crested Newt Triturus cristatus
The great crested newt Triturus cristatus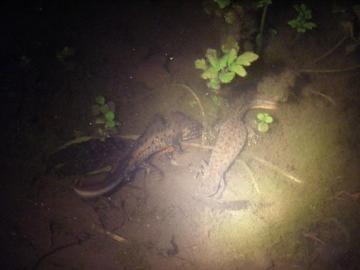 Status - Widespread (largely overall status unknown) Populations are centred in the south east, central and north west of the county. The loss of ponds in the wider landscape largely by the intensification of agriculture has resulted in the fastest decline of any amphibian species in the UK especially over the last 60 years. The main areas of suitable habitat are targeted for re development (i.e. brownfield sites) and unsympathetic management of nature reserves is also a potential factor in the species further decline.
Highest occupancy rate of 30 to 40% were established through professional surveys undertaken as a result of development projects in the county. With an approx 7,000 to 14,000 ponds found in the whole of the county only 450 of the estimated 2,800 to 5600 gcn ponds are known. In order to conserve the species more records +/- are required to help determine the conservation status of the species.
Mitigation projects have been shown to be largely successful in maintaining newt colonies but their long term survival has not been determined.
Several prosecutions have been secured against persons and organisations who breach the strict legislation which protects the newt and its habitats.
Chelmsford
Widespread but status unknown - threats include development and unsympathetic land management e.g heathland restoration removing woodland a key terrestrial habitat around known breeding ponds. Significant populations The area around mid Essex was found to be one of the top three newt populations found in Essex - 2003 - professional surveyors found large numbers of newts within ponds known around the Mid Essex Gravel Sites and Channels Golf Course. This site has become a SINC or LoWS. A New Bypass threatens the site by cutting off the population to other populations beyond in the countryside.
Rochford
Widespread but status unknown - The largest known colony was recorded in Hawkwell in 2000. Adult counts of 215 were found during a torch survey of an old flood reservoir owned by Anglian Water. Many colonies exist within field ponds but actual status cannot be determined. Various sites have been found around the District while large populations are found the majority of the populations only number a few hundred.
Basildon
Widespread but status unknown - The most significant population is centred on Wat Tyler Country ParkTQ736863 a metapopulation of over 1,000 newts centred on various ponds. Sevral ponds within the residential areas have existed in isolated for ponds it seems for over 30 to 40 years.
Many populations have been subjected to mitigation projects e.g. Noake Bridge, Wat Tyler Country Park, and Visteon site along the A127. Mitigation projects seem to do the bare minimum and often populations are left isolated as they are kept in situ rather than translocating to external sites which have better connectivity to other ponds and habitats.
Braintree
Widespread but status unknown -
Colchester
Widespread but status unknown - losses have occurred in this area. Abbotts Hall Farm TL963136saw a reduction in the status of breeding newts as a result of the coastal realignment project. In 2004 one of the two main breeding ponds was not occupied due to high salinity. Over habitat management projects have also affected newt colonies despite their strict protection terrestrial habitats have been removed to create other habitats which are not as suitable for newts.
Maldon
Widespread but status unknown - more information to come
Southend
Local & Rare - the heavily urbanised nature of Southend means that very few field ponds exist where newts can breed. Several urban populations do occur due to illegal introductions from Basildon. Main natural site is located at Garons Golf CourseTQ896879 where a medium population occurs and appears to be in good health. Action survey of garons golf course in 2009 and plan reintroductions to former range in 2010/11
Harlow
widespread & local - various consultancy surveys have revealed the small size of newt populations in Harlow.
Epping
Widespread but status unknown - the oldest mitigation project which was undertaken in 1987 at the Civic Offices TL460024 has been shown to still have a population of newts after 20 years despite being situated within a urbanised environment. Epping Forest is one of two SSSI which has the species listed as a feature on the SSSI citation.
Havering
Rare & local - more information to follow
Uttlesford
Widespread but status unknown - large amounts of survey information has been gained from the expansion of Stansted Airport. Over 130 ponds have been surveyed which can be considered the largest targeted survey of ponds for the species. Despite the myth that the newt is 'common as muck' only 30% or less of the ponds surveyed were found to have great crested newts - backing up the evidence that the species is the fastest declining amphibian species over the last 50 years in the UK (Beebee & Griffiths 2000).
Castlepoint
Widespread but localised - The second SSSI which has the great crested newt listed as a feature is Hadleigh & Benfleet Downs. The area around Hadleigh Castle Country Park792863 is managed by Essex County Council and has seen improvements for the newt population. New ponds have been created as mitigation for removing scrub for the shrill carder bee project and other ponds have been redug and restored on the grazing marshes.
West Canvey Marshes has a significant population of great crested newts. Surveys have revealed that the ditches and ponds support a good population of newts. Ponds have been restored by the RSPB with help from EARG members.
Action Resurvey Hadleigh & Benfleet Downs and West Canvey Marshes for gcn in 2009, involvement with the Olympics Mountain Bike track development to ensure gains for crested newts i.e. more ponds and habitat protection.
Brentwood
Widespread but status unknown -Populations are found around the Thorndon Country Park Area - main populations are found in the clay areas where high pond densities favour the species. Gravel ponds have small numbers of crested newts while palmate newts dominate these ponds. Pond creation project has recently been completed with Brentwood Council, EARG and ARG UK www.arguk.org
Tendring
Status unknown & very much underrecorded - virtauly nothing is known about the species in Tendring. Only four historic records are known from the area. Action - Carry out targeted surveys for the species and capture any data from professional consultants to help establish the distribution of newts in the District.
Thurrock
The actual status of the species is not clear in Thurrock. The main reason is th elack of survey work or reporting of survey work by professional consultants. The only site recently reported there were only 139 great crested newts found during 2008 within a translocation programme being undertaken by DP World in respect of developing the London Gateway Site.
A big plus from this project is the construction of 24 new ponds in 2008 with a further 18 ponds to be created in 2009. This level of pond construction has fulfilled pond creation targets in the Essex BAP.
Other newt sites occur at One Tree Hill, Dilkes Park and Stanford Warren.