May 28th : Blue House Farm EWT Reserve, North Fambridge. Clusters of large white objects littering the grazing marsh on the reserve appeared, at a distance, to be Giant Puffballs but closer inspection revealed them to be Agaricus bernardii.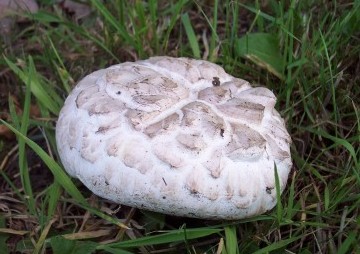 This species is easily recognised by its deeply fissured cap and the extremely firmly textured flesh (yielding but little when pressed hard) which turns bright pinkish-red when cut. As for the smell it is described as "fishy" by Phillips (1988) but as "carbolic, metallic or with a dung component" by Noordeloos (2001). This is irrelevant to me, as I have no sense of smell, but it does illustrate the problems faced by amateur mycologists like myself when trying to identify a species using smell and a variety of text books! This species is traditionally associated with saline coastal grazing marshes but like many vascular plant species it has learned to exploit the salt splash zone along roadside verges and is probably commoner in this habitat nowadays than along the coast. The only record on the BMI database for Essex was made by E.W. Brown on a roadside verge near Grays Rugby Club in 2004 but this is surely not a true reflection of its status in the county. The photo, above was taken at Fryerning Green, Ingatestone in 2009. The hot weather between May 22nd and 26th finally seems to have kick started the spring for invertebrates. Previously, during walks in the countryside, the fields and hedgerows looked green and burgeoning but it was a struggle to find much in the way of insect life apart from a few early spring bees. Today, my weekly butterfly transect on Blue House produced 91 Common Blues, 70 Small Heaths and 27 Small Coppers along with a fine array of day flying moths such as Latticed Heath, Mother Shipton, Burnet Companion, Small Yellow Underwing, Yellow Belle, Silver Y and Cream-spot Tiger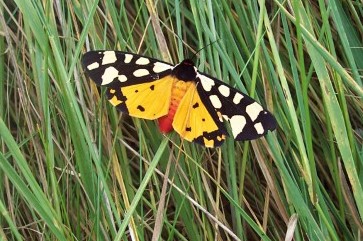 . Hairy Dragonflies (6) and Four-spotted Chasers (6) were also on the wing for the first time together with small numbers of Large Red, Azure, Common Blue and Blue-tailed Damselflies. My first record for Small Heath on the reserve this spring was on May 19th and Common Blue on 22nd, both about ten days later than in both 2008 and 2009. Better late than never though. Spring at last!