Is the fungi season underway? I hope so. Or is the weather about to go dry on us? Funny lot, mycologists, even amateur ones. Scanning the sky for rain clouds rather than blue skies! A deluge was promised us today and all we got was a little drizzle. Weather forecasters - you can't trust them!
The intermittant showers in the past few weeks have encouraged a few to appear locally, mostly regular species in their regular sites. Geoffrey Kibby's new key on Bolete has allowed me to reassess old records of Boletus erythopus and reticulatus at Fryerning Churchyard, Xerocomus cisalpinus in a local lane and Leccinum scabrum at Fryerning Hall Fishing Lakes. All present and still correct I am glad to say! So too, Inocybe asterospora; keyed out in Alan Outen's and Penny Cullington's new key tothat genus. Best find so far has been the Jewelled Amanita, Amanita gemmata (illustrated here), found growing under oak, birch and other deciduous trees at Fryerning Hall Fishing lakes. The yellowish-cream cap with a striate margin and scattered veil remnants (present only in the centre of the cap on this older specimen), fugacious (remnant) ring, broad basal bulb encased in a short volva, and spore size (9-10um on twelve measured) key it out as this species but a full description has been taken and the specimens retained. The deeply concave cap on this specimen may be attributable to the dry weather.This is my second record for this species locally.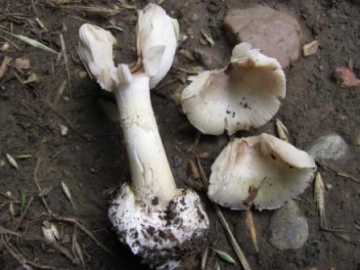 How about you Mary - have you had any luck?