One of the joys of living in this country is the flow of the seasons. 'Flow' is the operative word here as some years winter never seems to end and spring never begins, the former's sub-zero night-time temperatures and biting north-easterly winds giving way to sub-tropical midsummer heat within the space of a few days in late May, bypassing the spring altogether! Thus, to those of us addicted to the seasonal flow March and April are two of the most important months of the year as when they are blessed with days of gentle warmth and south or south-westerly breezes butterflies, wild flowers, bees, moths, migrant birds and other wildlife all appear in due order and give a smooth but steadily increasing momentum to the spring. The snow and frost of mid-February now behind us the temperature rose steadily this week to a balmy 17`C on 23rd, almost twice the average at this time of year. What a joy it is on such a day to relax on a seawall somewhere, tucked down out of the breeze, coffee and sandwiches to hand, and soak up those first blissfully warm rays of the spring. It will be too ruddy hot soon enough!
Wildlife duly responded : a Peacock in the garden on 23rd was followed by a Brimstone at The Backwarden EWT Reserve on 25th while the second bumblebee of the year, a White-tailed Bombus lucorum, in the former locality, was succeeded two days later by a Red-tailed B. lapidarius, in the second. There are precious few wild flowers out at the moment to provide nectar and pollen but the White-tailed had sacs bulging with white pollen so she must have found a source somewhere in the local gardens. Among the few species in bloom this week were the first 'wild' Primroses I have seen this year, in Poors Piece, Danbury, and clusters of the tiny white flowers of Common Whitlow Grass on the seawall at Blue House. Another sure sign of the emerging spring were a couple of Adders, both females, one at Hitchcock Meadows EWT Reserve on 23rd (seen by the warden, Peter Squire) and the other (pictured) at The Backwarden on 25th, resting on the banks of the hibernaculum where she spent the winter underground. At Blue House the fields were full of Skylark song and Meadow Pipits were performing their display flights for the first time this year.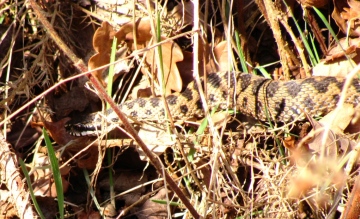 Spring truly has begun to spring!