Ah, the sounds of the mowers' mowers mowing on a Sunday afternoon when you are trying to enjoy a bit of peace and quiet in the garden. All those potential mini-meadows being scythed to billiard table smoothness. As Michael says, truly one of the sounds of spring. I even cut my own occasionally - kind of. One doesn't like to upset the neighbours and there is nothing like an unruly lawn for upsetting the sensibilities of many a gardener. But I cut mine midweek, when most people are at work and will not be disturbed. That's one of the joys of retirement. There is always a Plan B. Like when the train is cancelled (cable thieves again!). I simply wait for the next one, a smug smile hidden from view as I observe the agitated commuters all around me! My lawn cutting is a tortuous business as I weave the flymo between the patches of Lady's Smock and Field Wood Rush in the early spring, followed later by Germander Speedwell and Bulbous Buttercup, then Self Heal and Bird's-foot Trefoil, while in late summer I abandon it to swathes of Cat's Ear and Autumn Hawkbit. But the bits in between do get cut; that's my concession to respectability. When I was on my post-round and people commented that their lawns were in a terrible state and needed cutting I sometimes gave them a guided tour of the said plot, pointing out all the wild flowers growing in the grass. I think they were impressed, even if they figured I was up there with the fairies, but both they and I knew that such an argument was unlikely to wash with the neighbours. Buttercups and daisies all got the chop along with the likes of Lady's Bedstraw, Wild Carrot, Dog Daisy, Hardhead, Grey and Prickly Sedges. Even a couple of Green-winged Orchids on one lawn went the way of all weeds! A shame really, as having lost 98% of our wild flower meadows what is there left apart from churchyards and garden lawns?
As for finding the time to pen pieces like the above, Mary; most of the work I have to do on a computer is repetitive drudgery and it's a relief to spend an hour or so doing something a little bit creative. As for anyone reading it..........as I've mentioned before, this website has required a phenomenal effort to set up by Peter and it's a pity more people, members and non-members alike, don't use this part of it more to share their sightings.
As for this particular week, a huge high pressure system settled across the country, deflecting the jet stream to the north, the result being seven days of glorious sunshine and exceptional temperatures, the latter approaching twice the national average (10-12`C at this time of year) on several days. It seemed almost unnatural, my mind getting way ahead of itself by seeking out Cuckoos and Nightingales long before they are due. I had to keep dragging it back to reality - a reality, however, that did include a small number of spring butterflies - Peacock, Brimstone, Small Tortiseshell and Comma among them. Rob Smith, the butterfly recorder tells me that there have been a few sightings of Red Admiral, Small and Green-veined White in the past week and even an exceptionally early sighting of a Holly Blue in Cambridgeshire. The garden has been full of Dark-edged Bee Flies (to give them their proper name) and there have also been a few Drone and Marmalade Flies (the latter pictured) and the long-tongued bee Anthophora plumipes, the ♂♂ of which are brown and the ♀♀ black. A fourth bumblebee species also turned up,Bombus pratorum, known as the Early Bumblebee, only this one was late! Finally, the cold, clear nights that followed the warm days seem to have held the moths in check, though, but I did catch a fine Oak Beauty.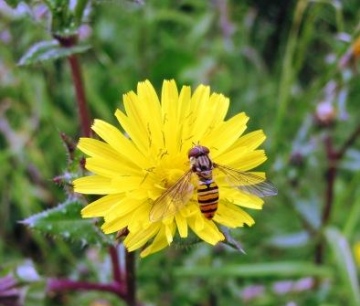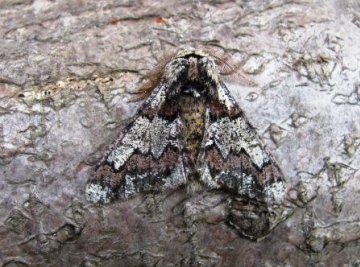 Elsewhere, 16- and 14-spot Ladybirds have been emerging from the rotting base of fence posts at Blue House, where they winter, often hundreds to a post, while Common Lizards were sunning themselves at Mill Green on 19th and a Grass Snake, still dopey from its winter sleep, at The Backwarden on 24th.