rose chafer survey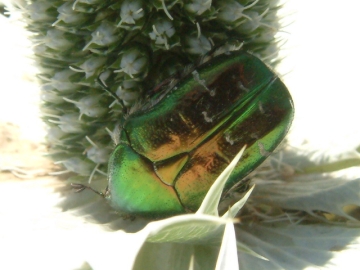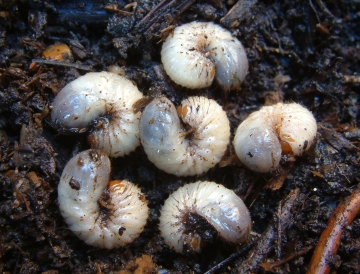 The results of a survey from 2003 to 2017 showed that practically all the records collected were in the Colchester District, concentrated in the southern part of Colchester; a few records came from West Bergholt and Great Horkesley. An isolated population was discovered in Witham. Except for a few records in south-west Essex, there were no records for the rest of Essex. In order to fill this huge gap we need records of both larvae and of imagos in Essex.
On warm sunny days look out for imagos foraging on flowers; for example, rhubarb, pyracantha, globe artichoke, cardoon, and eryngium, and on roses. They have their preferences, Compositae and Umbelliferae flowers seem particularly attractive to them. The photo shows a rose chafer on an Eryngium sp.. Their distinctive larvae are often found in compost heaps.
Reference: Fremlin M (2018) The Rose Chafer Cetonia aurata L. (Coleoptera: Scarabaeidae:Cetoniinae) in Essex: distribution and some aspects of its ecology. Essex Naturalist (New Series) 35: 167-178.
Updated on 5 May 2020, by Maria Fremlin.
Rose chafers Cetonia aurata in Colchester, Essex